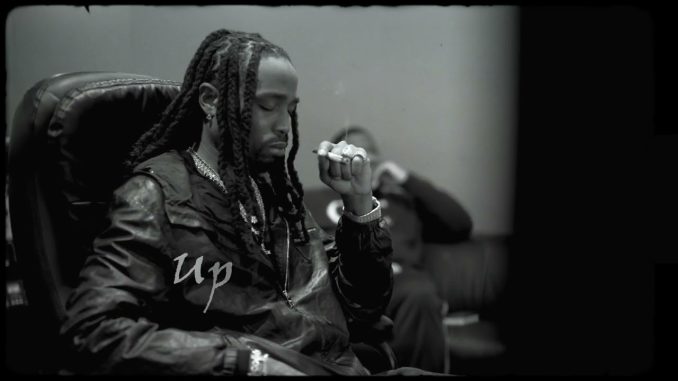 Track Info:
| | |
| --- | --- |
| Artist(s) Name: | Quavo |
| Song Name: | Without You |
| Released Year: | 2022 |
| Category: | Latest Music |
| Source: | ThinkNews |
Download "Quavo – Without You" Audio Mp3, MP4, Lyrics On Thinknews
The Talented Musician, Quavo comes back with another studio singles titled "Without You", which ThinkNews made available for free Mp3 Download for you.
"WITHOUT YOU" is a tribute track to late rapper Takeoff, who was Quavo's nephew and part of the rap trio group Migos along with Quavo's cousin Offset. The trio would split apart around mid-2021, causing Offset to go solo and Quavo and Takeoff would become a duo titled "Unc and Phew". Along with the numerous songs the duo have together, they also made their own collaborative album titled Only Built For Infinity Links which released only around a month before Takeoff's unfortunate passing. On this track, Quavo gets emotional about losing his nephew and shares his struggles with grieving the loss.
After downloading this music, we highly need your comment, and that's where we know if we are serving you good or Bad. Please comment below.
And again, please, always visit thinknews.com.ng, to download New songs or album from all your favorite artists, Thanks
Stream & Download "Without You" by Quavo MP3 Below:
Watch The Youtube Video Below (Official Music Video MP4)
Quavo – Without You Lyrics
[Intro: Vory]
(What would I do without you?)
Tears rollin' down my eyes
(What would I do without you?)
I just seen an angel fly
(What would I do without you?)
Tell me I'll be fine, oh why (What would I do without you?)
If you hear me say you lie, you a lie, you a lie
You hear me say you lie, you a lie, you a lie
[Verse 1]
Tears rollin' down my eyes (Mm-hm)
Can't tell you how many times I cried (Can't tell you how many times I cried)
Days ain't the same without you (No)
I don't know if I'm the same without you (Nah, I'm ain't the same)
Remember the days we smoked big blunts together?
Remember the days we rocked out Coachella? (Them days)
Remember the days we ain't have our shit together? (Shit)
On the Nawfside, times were hard, but them days was better (Nawf)
I wish I had a time machine
Just so you can take a ride with me (Skrr-skrrt)
I miss just how you smile at me (Smile)
Unc and Phew until infinity (Infinity)
I wish I had a time machine (Yessir)
So you can take a ride with me (Skrrt)
Wrap my arms around and hold you tight, Phew
So you can never say goodbye to me
[Chorus]
Out in the galaxy, up in the stars
Over the universe, it's bigger than Mars
See you in Heaven, see you in Heaven
When I see you in Heaven, I'ma be with my dawg (Yeah)
Out in the galaxy, up in the stars
Over the universe, it's bigger than Mars (It's big)
See you in Heaven, see you in Heaven
When I see you in Heaven, I'ma be with my dawg (Yeah)
[Verse 2]
I don't know if I'm the same without you (Yeah, I'm ain't the same)
It ain't no gang without you (No, it ain't no gang, nah)
Birthdays ain't the same without you (No)
Christmas ain't the same without you (No)
I'ma represent your name when it's 'bout you
I wouldn't have got it out the mud without you (Mud)
It's hard to see Mama Love without you (Mama), mama, mama
It's hard to see Mama Love without you (Mama Love, yeah)
[Chorus]
Out in the galaxy, up in the stars
Over the universe, it's bigger than Mars
See you in Heaven (Oh), see you in Heaven
When I see you in Heaven, I'ma be with my dawg (Yeah)
Out in the galaxy (Galaxy), up in the stars (Yeah)
Over the universe (Yeah), it's bigger than Mars (Than Mars)
See you in Heaven, see you in Heaven (See you in Heaven)
When I see you in Heaven, I'ma be with my dawg (Oh yeah, I'ma be with my dawg)
[Outro]
(What would I do without you?) Yeah, be with my dawg
(What would I do without you?) Yeah, be with my dawg
(What would I do without you?) I wish I had a time machine (My dawg, yeah)
So you can take a ride with me
(What would I do without you?) But I know it ain't work that way
And I'll see you again someday
(What would I do without you?) Take
Take (What would I do without you?)
Take, I'm sorry
Take, I'm sorry (What would I do without you?)
Take, I'm sorry
Take (What would I do without you?)
(What would I do without you?)